DEPALLETIZING ROBOT FOR STACKED FOAM PLATES











Robot AX-Robot depalletizing
The anthropomorphic robot AX-Robot is a technologically advanced solution in which electronics, mechanics and innovative Aper solutions are combined in a flexible product. AX-ROBOT is a flexible solution, not rigid as a Cartesian robot or a gantry robot. With the APER gripper, it is able to pick-up, handle and position the product with the correct orientation, as well as being able to manage the depalletising and feed the Aper gluing machines.
The anthropomorphic 4-axis AX-ROBOT is able to perform precision positioning and align the sheets one on top of the other or palletise finished mattresses in completely automatic mode The types of grippers installed on the AX-ROBOT, vary according to the type of materials to be handled that may also be different from each other, as, for example, spring pocket or bonnel, polyurethane, viscoelastic, felt, etc.
The gripping system is always developed and customised by the Aper technicians according to the specific requirements of the customer.
With the flexibility of the AX-Robot it is possible to have available numerous storage positions (based on the dimensions of the products to be handled, from 2 to 6 storage positions) so as to have production cycle continuity that may never have to be interrupted. The use of the AX-Robot considerably reduces the use of manpower and ensures constant cycle times. With the safety systems installed on this type of solution, it is reliable and safe.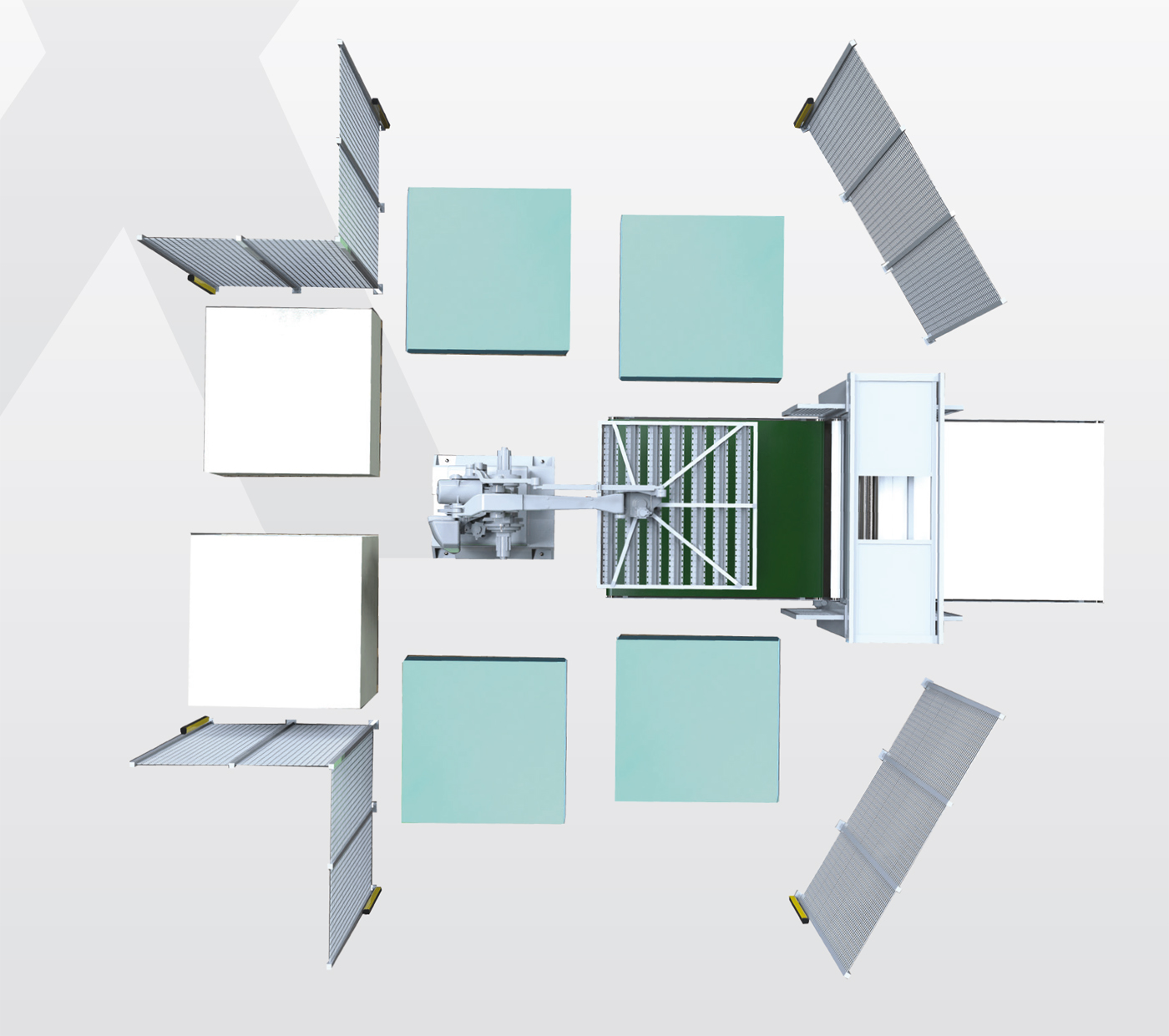 SPECIFICATION
| PRODOTTO/PRODUCT | AX-ROBOT |
| --- | --- |
| Voltage (v – ph – hz) / Voltaggio | 400/440 V – 3 ph – 50/60 Hz |
| Current (amps) / Amplificatori di corrente | 15 |
| motor type / Tipo di Motore | 4 Brushless |
| | BAR | PSI |
| --- | --- | --- |
| Air pressure / Pressione dell'Aria | 6 | 87 |
| | NL/min | CFM |
| Air consumption / Consumo dell'Aria | 150 | 5,3 |
| | Kg | Ibs |
| Weight / Peso | 3650 | 8000 |
| | mm | inch |
| | L-W-H | L-W-H |
| Dimension / Dimensione | Custom | Custom |
| | | |
Robot AX-Robot depalletizing