ROLLING MACHINE



















AX-R+ rolling machine. The Aper AX-R+ roller gluing machine has been designed for use with single-component water-based glues. It can perform several types of gluing, for example:
– glue application on shaped profiles
– glue application on tips only
– glue application on flat surfaces

With the included profile tracking option, the glue rollers automatically position on the part to be glued and follow the profile. The AX-R+ gluing machine consists of 2 rollers, one for application and one for batching, through which the glue is applied and the quantity of adhesive to be distributed is adjusted. The robust and, precise mechanics of the  AX-R+ machine, and the accuracy with which the batching and applicator rollers are manufactured ensure  very important competitive  advantages, among which the possibility  of an extremely accurate adjustment , consequently reducing  the weight of glue applied  and the possibility to work at a high speed  under all conditions and with any type of material, also of different thicknesses whether it be smooth, embossed or shaped.
This machine is managed by a numeric control touch screen and consists of a loading conveyor belt with wheels to facilitate cleaning operations, a processing belt in stick-proof material and a glue bridge which contains the rollers group.
The adjustment of the quantity of glue to be spread may be executed by operating on the manual micrometric handwheel or motorised and completely automatic.
The many options available for the model AX-R+, make it flexible and appropriate for numerous types of use that require gluing. The AX-R+ glue applicator is able to operate as stand-alone or in line with other APER machines.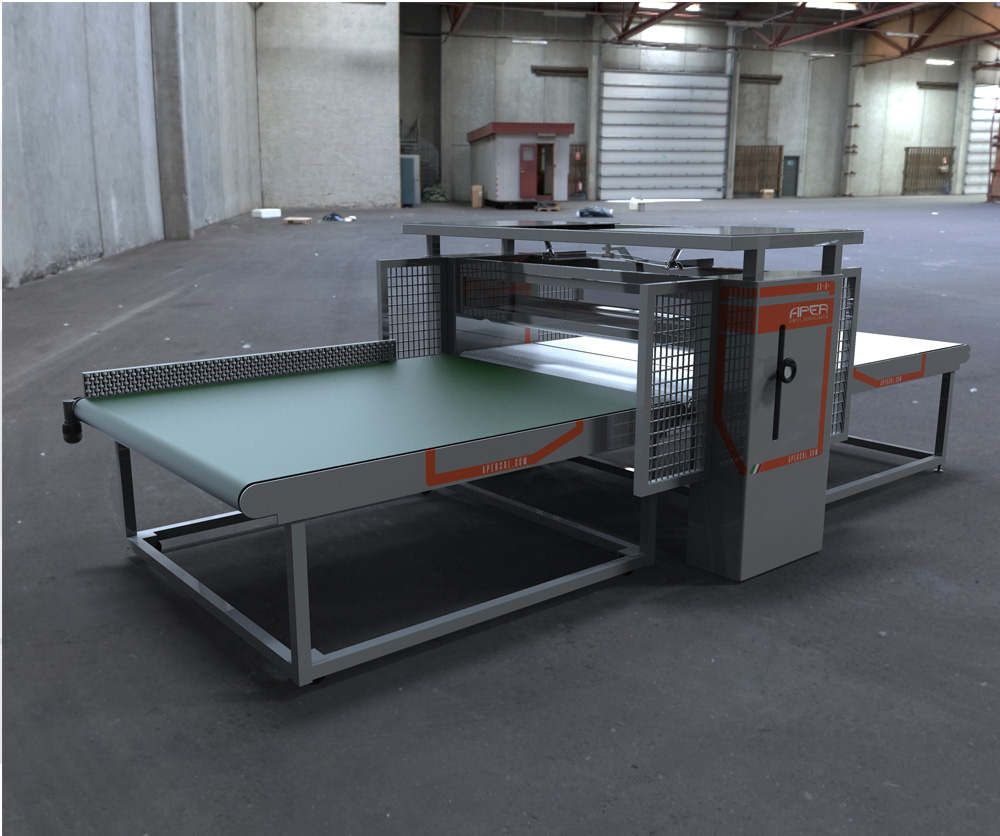 AX-R+ rolling machine

SPECIFICATION
| PRODOTTO/PRODUCT | AX-R+ |
| --- | --- |
| Voltage (v – ph – hz) / Voltaggio | 400/480 V – 3 ph – 50/60 Hz |
| Current (amps) / Amplificatori di corrente | 17,00 |
| motor type / Tipo di Motore | 2 AC and 1 Brushless |
| | BAR | PSI |
| --- | --- | --- |
| Air pressure / Pressione dell'Aria | 6 | 87 |
| | NL/min | CFM |
| Air consumption / Consumo dell'Aria | 10 | 0,350 |
| | Kg | Ibs |
| Weight / Peso | 2200 | 4850 |
| | mm | inch |
| | L-W-H | L-W-H |
| Dimension / Dimensione | 6025-3270-2000 | 237,2-128,7-79 |
| Usefull area / Zona Utile | 2200-2100300/395 | 87-83-12/15,55 |